From Madonna and Britney's raunchy moment in '03, Lady Gaga's shocking performance in '09 and even Miley's wild child antics onstage in 2015, the MTV VMAs have always been a jaw-dropping affair. Not so much for this year's edition, which uncharacteristically paled in comparison. 
Hosted by Katy Perry who doled out mum jokes and awkward dance moves all around, what VMAs lacked in excitement, it made up for in cringe. Nonetheless, we're soldiering on to bring you the best highlights from the otherwise mundane award show. 
Tiffany Haddish's Acceptance Speech
.@TiffanyHaddish for Best Everything at the #VMAs pic.twitter.com/3LnYfZdg9X

— Entertainment Weekly (@EW) August 28, 2017
"And, also, I just want to show all my [exes] that I'm out here killing the game. I told you I was gonna do it. You didn't believe me. Now look at you sitting there, watching me, looking good." 
Score one for Girl's Trip actress Tiffany Haddish. Taking her airtime as a chance to not only share an inspirational speech, Tiffany also used it to savagely drag her exes for their lack of faith. Her celebratory dance and snipes won the hearts of viewers, who took to Twitter to share their love for the sassy comedian, swooning over how she would've been a better host. Ouch. 
Lorde's Interpretive Dance
What would Lorde do if she fell sick before a huge performance? As the world found out during the VMAs, Lorde would choose to dance. Opting for a strong, 'the show must go on' attitude, the quirky songstress strode onstage and showed off her interpretative dance skills instead of delighting the audience with her kick-ass vocals. As expected, not many could appreciate her act, but kudos to her for at least trying. 
Kendrick Lamar's Performance 
The VMAs kicked off with an adrenaline pumping medley of Kendrick Lamar's latest hits like 'DNA' and 'Humble'. The crown of flames in his 'Humble' music video is probably what inspired the fiery performance – a netted backdrop decorated with fire and a dancing ninja on fire, literally. Lamar definitely deserved to win all 6 of his VMA awards! 
Paris Jackson vs 'White Supremacists Jerks'
"WE MUST RESIST" – @ParisJackson condemns "Nazi white supremacist jerks" at #VMAs pic.twitter.com/kTbePYTPap

— What's Trending (@WhatsTrending) August 28, 2017
This year's VMAs saw celebrities tackling serious subject matters like the recent social and political happenings in America, and Paris Jackson was one of them. The award presenter for the Best Pop Video Award delivered an impassioned speech where she called out "nazi, white supremacist jerks". "I'm seeing a lot of love and light here tonight already, a lot of diversity and a lot of potential power," the actress and model began. "You know, if we all put our voices together, do you realize the difference we would make? If we were to all stand up, united, as one, our impact would be huge, believe me, huge. And that's not fake news." Her points are totally valid – there's no room in our world for discrimination, negativity and hate. Preach, Paris! 
Pink's Touching Acceptance Speech
💋 @Pink accepting the coveted #VMA Vanguard Award 👏👏👏 pic.twitter.com/uF7ASnHSco

— MTV (@MTV) August 28, 2017
A proud recipient of the prestigious Michael Jackson Video Vanguard Award, Pink took the opportunity to dedicate an empowering speech to Willow, her 6-year-old daughter who felt "ugly" because "she looks like a boy". Sharing her own experience of how people opted for the "you look too masculine" or "you look a boy" type of insults when trying to make fun of her, Pink firmly stated that she refused to change who she was to please others – and she continues to be a best-selling artiste nonetheless. "So baby girl, we don't change. We take the gravel and the shell, and we make a pearl." Wise words indeed. 
'Camila' Jumping Off the Stage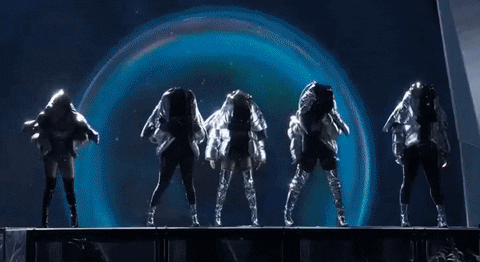 It's no secret that Fifth Harmony's definitely sick of people asking them about former member Camila Cabello, which made their red carpet interview with MTV host Charlemagne  (who had the audacity to ask them if they'd gift Camila their Best Dance award if they won) so deliciously awkward. While the girls took it in stride, with Normani smoothly stating that they'd give it to their choreographer if they won, Fifth Harmony kinda made a statement of their own by arranging for a fake Camila to jump off stage just before they launched into a fierce performance of 'Down'. Now, stop asking Fifth Harmony about 'she who will not be named', k?
Cardi B's Performance
Cardi B slayed her performance of 'Bodak Yellow' on the pre-show stage in her diamond encrusted leotard and matching $10,000 knee high boots, making us certain that this up-and-comer should've had a slot of her own during the main ceremony. 
Look What Taylor Did
Taylor Swift won more than just the Best Collaboration award this year. Without even showing up, she became one of the night's most talked about by premiering the music video of 'Look What You Made Me Do', an over 4-minute long vid filled with petty metaphors and sly references to her various celebrity rivals and romances – a brilliant maneuver on her part. And as a bonus, Taylor completely upstaged longtime nemesis Katy Perry without even lifting a finger. 
Alessia Cara Removes Her Make Up
Alessia Cara took #NoFilter to a whole new level by stripping down to the bare essentials midway through her performance of 'Scars To Your Beautiful'. Unfazed by the crowd, the hit songstress freed her natural hair, wiped off her makeup and pulled apart her elaborate outfit to 'reveal' the real Alessia, and confidently struts down the stage like a perfect embodiment of her song lyric: 'You're beautiful just the way you are/ you don't have to change a thing'.  Her 'walk the talk' approach is both refreshing and inspirational, and we appreciate Alessia's efforts in spreading positive messages through her art. 
1-800-273-8255
One of the most important and relevant performances of the night, Logic, Khalid and Alessia Cara teamed up for a powerful performance of Logic's suicide-prevention anthem, '1800-273-8255′. Midway through the song, which is named after America's national suicide prevention hotline, 50 suicide-attempt and loss survivors took to the stage wearing shirts emblazoned with the hotline number as well as the message "you are not alone'. 
And as Kesha, who introduced their performance said, "It has been said that if you knew who walked beside you, you could never experience fear or doubt again. Every so often, a rare and important song and video comes along that lets us know how true that is… Whatever you are going through, however dark it may seem, there is an undeniable truth and strength in the fact that you are not alone." Artistes like Logic, who take a stand and use their voices to spread awareness and encourage constant conversation about mental health, is just what the world needs.
What are your favourite moments from MTV VMA 2017? Let us know in the comments!
More related stories: 25 Sneaky Ways Taylor Swift Called Out Kanye, Katy Perry & More in Her New Music Video, 8 Celebrity Offspring To Follow On Instagram, Bebe Rexha Shares The "Best Decision" She's Ever Made