It's been 13 years since Mean Girls was released and boy did no one expect the cultural impact this teen movie would make. And since we're celebrating Mean Girls Day (because it's October 3rd, duh), here are 20 ways Mean Girls has changed our lives, subtly or otherwise! 
#1 Wearing Pink On Wednesdays
Of all the rules that came with being a Plastic (which includes not wearing a tank top two days in a row and only being able to wear your hair in a ponytail no more than once a week), the one about wearing pink on hump day is definitely the most iconic. So much so that many of us millennials still adhere to that fashion rule. #OnWednesdaysWeWearPink
#2 Brutus Is Just As Good As Caesar
Move aside Taylor Swift; Gretchen Weiners' rant about how "Brutus is just as cute as Caesar! Brutus is just as smart as Caesar! People totally like Brutus just as much as they like Caesar!" was obviously a thinly veiled meltdown about Regina George's tyranny, and it signified the cold takedown that was to come – the most apt (and first) 'Et tu, Brute?' situation in pop culture. 
#3 Your Mum's Chest Hair! 
Of all the iconic one liners delivered from the razor sharp Janis Ian, this insult (which she haphazardly flung to a rude dude who teased her about her hair) is the best. Sorry aunty. 
#4 "GROOL"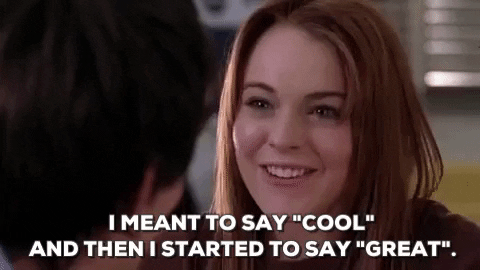 Mean Girls had a knack of combining certain words (whether on accident or not) and Cady's slightly embarrassing but mostly endearing slip up is the perfect example of how one could get tongue-tied while speaking to a crush.  
#5 Hair Full Of Secrets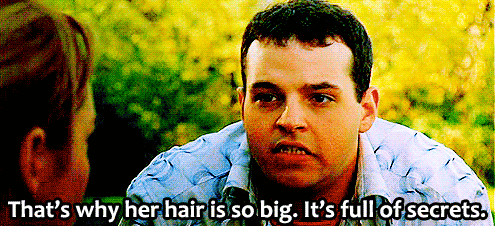 Till this day, we can't walk past someone with huge hair without thinking of the classic liner Damien used to describe gossipy Gretchen Weiners. 
#6 "That Is So Fetch!"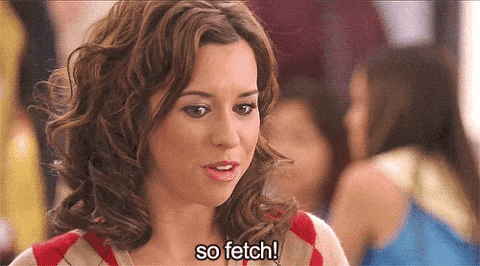 A slang created by Gretchen that didn't quite take off, 'Fetch' is used to describe something cool or awesome. For example, "Did you see what Ariana Grande was wearing last night? It was so fetch!" 
#7 Stop saying Fetch!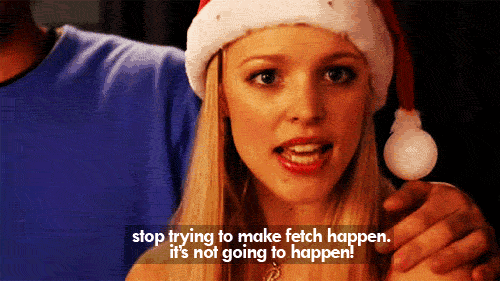 Which leads us to the next liner, delivered by the ever-frosty Regina George herself: "Stop trying to make 'fetch' happen!" Ouch. 
#8 What Are You?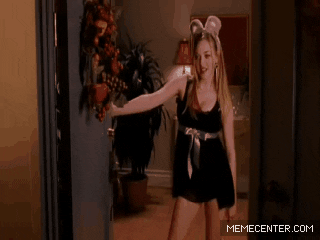 With Halloween coming up, Karen Smith's epic declaration will definitely come in handy. You know what to say the next time someone asks you, "Eh what are you dressing up as ah?" 
#9 You Go Glenn Coco!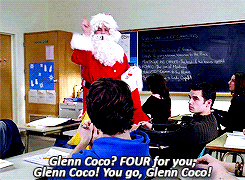 The world may never know what Glenn Coco truly looks like, but there's no stopping the barrage of praise that inevitably gets heaped upon him for receiving four candy canes to Gretchen Weiners' zero. 
#10 Jingle Bell Rock 
Listening to 'Jingle Bell Rock' during Christmas has forever changed because we can't hear it without picturing this hilariously eyebrow raising routine. Fun fact: The Plastics' little dance routine was actually choreographed by Janis Ian aka Regina George's ex-BFF, but you already knew that, didn't you? 
 #11 The Limit Does Not Exist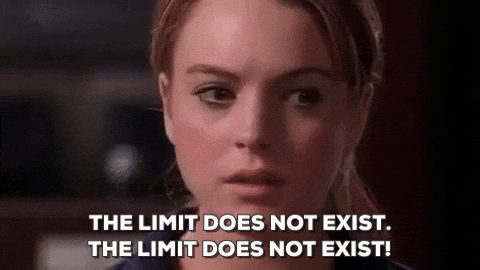 With the North Shore Mathlete's win hanging in precarious balance, Cady had to solve the final hurdle; to find the limits of a complex-looking function. This scene, which confirmed Cady's evolution from superficial Plastic to Mathlete hero, had her digging through her Aaron Samuel-riddled memories of math class, to which she triumphantly revealed the answer to this trick question: the limit does not exist! 
#12 Don't Ask Inappropriate Questions, Karen!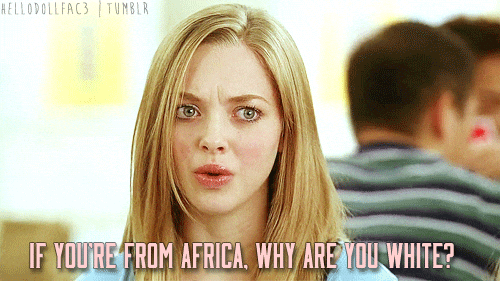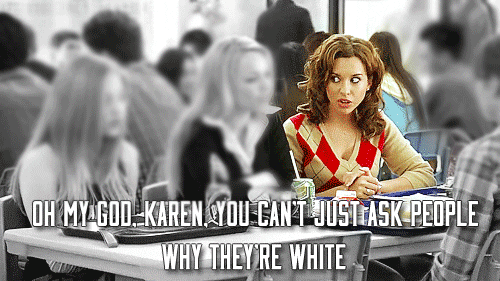 How clueless is Karen, you ask? Welllllll… very. This hilariously inappropriate scene (which definitely wouldn't fly in today's standards) saw Karen ask Cady that ignorant question, to which Gretchen gave a well-meaning, but equally ignorant reply. What would your answer to that question be? 
#13 Is Butter A Carb?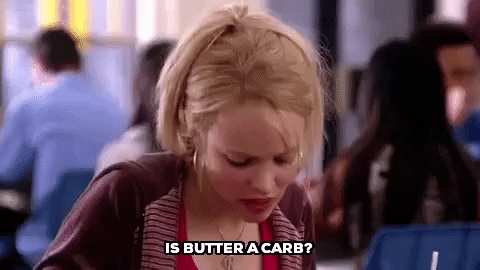 No, Regina, butter is not a carb. And till today, we have no idea why Cady lied. 
#14 You Can't Sit With Us!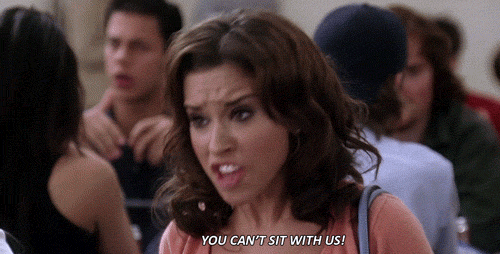 Ah, that victorious moment where Gretchen snapped and laid down the law for Regina has paved the way for many snarky, off-handed comments to frenemies and the like. When someone playfully exclaims, "you can't sit with us!", there's definitely a slight possibility they totally mean it the way Gretchen did. 
#15 Why Can't We Be Friends?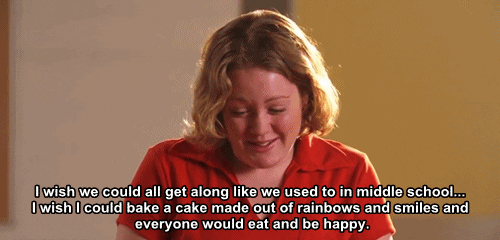 Commonly found nestled within angry Facebook/Tumblr threads, this girl's wish (captured in an eternally-looping GIF) echoes our peace-loving sentiments… only we don't know how to bake a cake made out of rainbows and smiles that everyone would eat and be happy. 
#16 Who Are You Again?

It's ironic how Damien (who wasn't supposed to be in the gymnasium anyway) exposed the crying girl for not being a student at North Shore High, but "she doesn't even go here!" has become yet another way for calling out someone who's being extra and unnecessary. 
#17 I'm A Cool Mum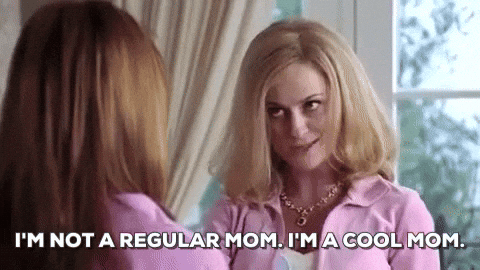 Between making sure her kids were safe, keeping a watchful eye on them and having their backs no matter what, Regina's wacky, OTT mum really was kind of a cool mum – in hindsight, over a decade later. 
#18 Ways To Take Down A B*TCH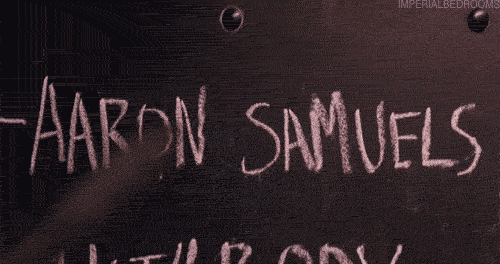 Honestly, Janis' frenzied rant on the 'Regina George formula' is epic. "She would be nothing without her high-status man-candy, technically good physique, and evil band of loyal followers." While we don't encourage negative behaviour of any kind, we gotta admit that Janis' diabolical rant is pretty on point. 
#19 Ways To Watch The World Burn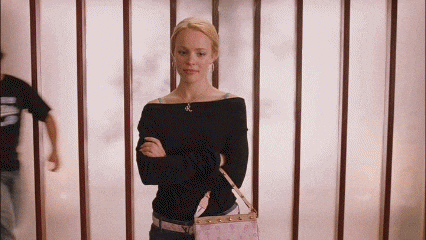 Hands down the best visual representation of the phrase "watch the world burn", Regina George's ultimate move of photocopying (lol how primitive) the Burn Book and literally spreading the rumours is forever embedded in the Petty Hall of Fame. Even Xiaxue used this GIF in her tell-all video, 'Social Blade Exposé: Who bought FAKE IG followers??' Watch the world burn indeed. 
#20 It's October 3rd 
And so, brings us to the last point, aka the whole point of the post. The annual reminder every time October 3rd rolls around: the day Aaron Samuels didn't know what day it was, and Cady told him – it's October 3rd. Happy Mean Girls Day! 
What are some of your favourite Mean Girls moments? Spread the love in the comment section!
More related stories: Cole Sprouse Might Just Be The Next Top Beauty V-logger, Album Review: Demi Lovato And Miley Cyrus Go Head To Head In Same-Day Album Releases, 8 Returning TV Shows To Get Ready For And Where They Left Off