Sam Smith might be known for his soulful ballads, but he sure knows how to belt a pop jam too.
Fresh off the release of his sophomore album The Thrill Of It All, Sam Smith took to the latest edition of The Late Late Show With James Corden's beloved segment Carpool Karaoke to remind us why we fell in love with him in the first place. Between pitch perfect renditions of emotional cuts like 'I'm Not The Only One' and his latest single 'Too Good At Goodbyes', the British crooner dished on everything from his noticeably slimmer frame to his opinion of the hottest celeb (the answer is Ryan Gosling btw). 
But when elaborating on his dream wedding – which includes a pre-nuptial funeral for his "single self" and guests dressed in all-black before unveiling white outfits – Sam also revealed that the march-in song of his choice would be Fifth Harmony's scorcher, 'Work From Home'. Lest we forget James Corden's knack for landing guests literally wherever and whenever, the host made a quick call. And lo and behold, the fabulous foursome showed up, greeting an ecstatic Sam who couldn't believe his luck.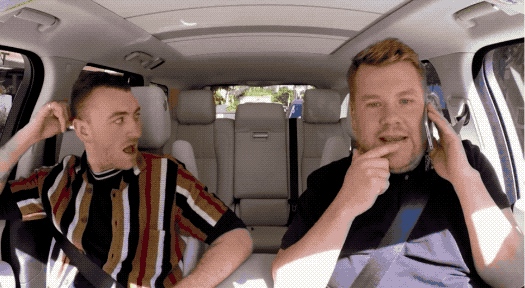 Cue the bubbling synths of 'Work From Home' and it's like the girl group had it's original lineup of five members, with Sam taking charge – ad-libs, hand gestures and all. We always knew Sam Smith had diva-worthy vocals, but we've never seen him unleash his inner diva quite like this! Sam even commemorated their surprise meet-up with an Instagram post captioned "That moment when all your carpool karaoke dreams come true". Hmm… could this be a sign of a collaboration in the works? We sure hope so!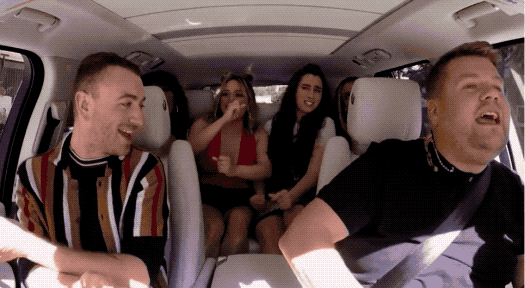 Watch the full Carpool Karaoke segment and listen to Sam Smith's latest album below: 
More related stories: Justin Bieber and Selena Gomez Are Hanging Out Again And The Internet Can't Handle It, It's Official: Beyoncé Is Playing Nala In The Lion King!, 13 Celebrities Who Totally Slayed Their Halloween Costumes