A ragtag team thrown together to battle each other onscreen, clad in skin tight spandex with their faces painted in the best of over the top '80s makeup while at it – welcome to Netflix's latest female-forward Original, the Gorgeous Ladies Of Wrestling (GLOW).
G.L.O.W begins with struggling actress, Ruth Wilder (Alison Brie) at an audition. She launches into an impassioned speech about saving her business, fighting for justice, and how she "won't be bullied into submission". Finishing her lines, Ruth sniffles and thanks Mallory, the casting director for offering her an opportunity to audition because "there aren't roles like this for women on television right now". The camera pans to a visibly unimpressed Mallory, who says drily, "You were reading the man's part." Turns out, Ruth was supposed to be auditioning for a secretary role and her actual lines were: "Sorry to interrupt. Your wife is on line 2." Crestfallen but desperate for the part, Ruth summons what's left of her pride and repeats it winningly.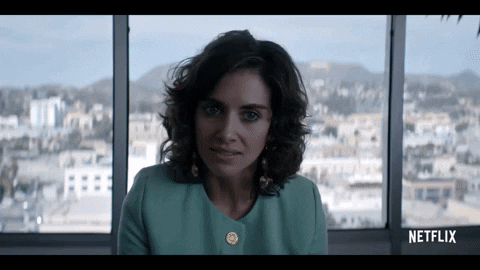 This scene was the first of many jolting realisations that this was how it was like back in 1980s television. Ruth's secretary would most likely be a one-dimensional role with little to no lines. If she got to speak, it'll be to inform her male boss that "his wife is on line 2". And even though the '80s saw an increase of realistic female characters onscreen – think The Golden Girls or Roseanne –, it would still be a struggle to find diverse female roles that didn't lean towards the archaic, sexist and stereotypical. 
As millennials who enjoy binge-watching shows with strong, female characters like Orange is the New Black (OITNB), The Handmaid's Tale, Jessica Jones and Girls, this reality is hard to fathom. OITNB especially, diverted from the tropes that followed female-centric shows, and was a huge catalyst in paving the way for shows depicting flawed women and the complexities of female friendships. Even better, its popularity revealed a demand and market for shows that flaunted authentic portrayals of women. That's where Gorgeous Ladies Of Wrestling comes in.
For the uninitiated, GLOW is based off a popular 1980s all-women wrestling show of the same name. As like its predecessor, 2017's version embraces every outrageous aspect that follows professional wrestling and its fledgling stars. At its helm are playwrights-turned-TV-writers Liz Flahive and Carly Mensch, longtime friends who worked on female-led shows like OITNB and Nurse Jackie. "We wanted to write something together, and we wanted it to be very female-focused," shares Liv in an interview. Stumbling across a documentary on the women of GLOW, they were instantly hooked. "The challenging thing was just how many characters we wanted to include and making sure we gave them a real voice."
Ruth would soon find herself at the life-changing audition for fledgling wrestling promotion Gorgeous Ladies of Wrestling, after receiving a voicemail from Mallory who informed her that "They're looking for unconventional women, whatever the h*ll that means." Stepping into the room, she sees other 'unconventional' aspiring actresses of different ethnicities, shapes and sizes, who were too seeking their own spotlight: a tough-as-nails former stuntwoman, fun loving hairstylists, a punk rock teenager and more.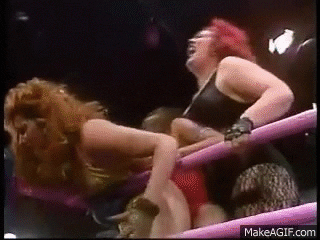 "A place that we started with, was how the idea of wrestling actually made us very uncomfortable." Carly shares, "We had moments where it felt empowering, and a lot where we questioned the level of exploitation, which was really interesting to us. Honouring the '80s [version] while remembering it wasn't women who were producing/directing the original. But, there is a lot more empowerment there than there is that inherent struggle. It's important to keep exploring." She continues, "Part of it was embracing the restrictions of that era and making them part of the story. We are two women who have had it pretty good in television – and looking back and thinking about the limitations on those women in the '80s – from our point of view was a challenge but definitely something we wanted to tackle."
To put it bluntly, those who showed up to the casting call were women who didn't fit into the '1980s television cookie cutter mould. And even in the years leading up to revolutionary shows like OITNB, these everyday, relatable female figures wouldn't have had a chance to grace our screens either. Fortunately, the television landscape has since evolved into an ever-inclusive one, where women not only ruled on TV, but also behind it – we wouldn't be able to watch the women of GLOW kick ass onscreen otherwise.
"The first time we saw Alison and Betty in the ring, in costume during the fantasy sequence we were shooting for the pilot, was thrilling. We really hadn't done any wrestling shots up until that point." Liz remembers, "Then all of a sudden, we had two leads in the middle of the ring surrounded by 400 extras in period costume… There was smoke, there were lights, it was like we were filming a rock concert! And they came to life in a totally new way; I remember people began to cluster around the monitors and we got to feel for the first time, that we were making something that was bigger than all of us!"
With that being said, the movement to show diverse female-led representation both onscreen and off is gaining momentum in spectacular fashion. But when would it become truly mainstream – where it doesn't take a woman to understand and champion the power of being female? "We don't have a crystal ball, but there are positive signs all around us. Including the fact that shows and movies [like Wonder Woman, OITNB and Pitch Perfect] have men writing on them." Liz concludes, "We can only hope it changes faster rather than slower."
You can now watch GLOW  Season 1 exclusively on Netflix. 
More related stories: There Are Over 60 Reasons Why You Need To Watch Charli XCX's New Video, Wanna One, NU'EST W & Other Hot K-pop Boys To Have On Your Radar, Rihanna, Harry Styles And Other Pop Stars Turned Actors