Something wicked this way comes. Who's in the running to become the next Sabrina Spellman? 
There's been much hype about a Sabrina the Teenage Witch reboot ever since KJ Apa, who plays Archie Andrews on Riverdale, revealed that the iconic character would eventually make her way to their sleepy town. And now that Netflix has stepped in with a 20-episode, two-season, straight-to-series order, that means that Sabrina Spellman is officially coming to the streaming platform.  
For the uninitiated (it is a '90s series after all), Sabrina the Teenage Witch is a sitcom that's based on the Archie Comics series of the same name. It featured Melissa Joan Hart as Sabrina Spellman, a high school student who unwittingly finds out that she's a witch on her sixteenth birthday. Sabrina lives with her 500-year-old witchy aunts, Zelda and Hilda, as well as Salem, a talking black cat.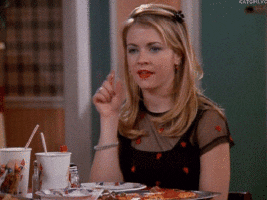 As it turns out, the upcoming version of Sabrina will bear no resemblance to its lighthearted, sitcom predecessor. Based off the Archie Comics graphic novel, The Chilling Adventures of Sabrina, this reboot is described to be a "dark coming-of-age tale that traffics in horror, the occult and witchcraft." It will follow in the vein of horror flicks like Rosemary's Baby and The Exorcist, which will find Sabrina "wrestling to reconcile her dual nature as a half-witch, half-mortal while fighting the evil forces that threaten her, her family and the daylight world humans inhabit." 
While we're content with these details for now, we can't help wondering about the cast members. Melissa Joan Hart left huge shoes to fill, so would Netflix go for a fresh face like they did with Riverdale, or would they cast someone whom the audience is already familiar with? Who will be playing the titular role of Sabrina Spellman? Netflix, if you're reading this, here are our suggestions!
Let the witchhunt begin… #sabrina, #cw, #greendale, #riverdale pic.twitter.com/E2i9KyAiHI

— RobertoAguirreSacasa (@WriterRAS) September 27, 2017
Dove Cameron
The 21-year-old Descendants actress has been a solid fan favourite to play Sabrina Spellman – there's even an official #DoveCameronForSabrinaSpellman hashtag, so you know the fans are serious. Apart from totally looking the witchy part, Dove herself has admitted to being game if the role were ever offered to her, and even went so far to post a photo of Sabrina on IG, complete with a cryptic emoji… 
Selena Gomez
The notion of Selena playing the part of Sabrina isn't that far-fetched considering the 'Wolves' singer once played the iconic role of Alex Russo, the havoc-wrecking teenage wizard on Wizards of Waverly Place. Plus, the singer fuelled fan speculations even further when she rolled up to the 2017 AMAs, randomly rocking a new blonde 'do. Suspicious or nah? 
Chloë Grace Moretz
According to Internet sleuths, Chloë Moretz's a strong contender for the role not only because of their similar appearances, but because of their social media connections; most of the Riverdale cast follows the Kick-Ass actress on Twitter and vice-versa. And Roberto Aguirre-Sacasa (executive producer on Riverdale and the upcoming Sabrina series) was a co-writer on 2013's Carrie, which Chloë starred in. Could she have been on his radar all along? 
Sabrina Carpenter
Could Sabrina Carpenter also be Sabrina the Teenage Witch? The Girl Meets World actress has shown her acting chops through her role as the tough but flawed Maya, and would be suitable for the darker scenes that The Chilling Adventures of Sabrina Spellman is sure to bring. Plus, she's already called Sabrina…
AnnaSophia Robb
With roles in The Bridge to Terabithia, Race to Witch Mountain and The Carrie Diaries, AnnaSophia Robb has a solid resume that might appeal to casting directors. And judging by responses online, she'd be a strong contender if fan casting were a thing. 
Who do you think should play Sabrina? Let us know in the comment section!
More related stories: 9 Times Liu Yifei Proved To Be The Perfect Mulan, It's Official: Beyoncé Is Playing Nala In The Lion King, The New 'Oppas' Of Meteor Garden's F4 Are Totally Gorgeous