This year's Teenage Dance Challenge (TDC) was phenomenal! Held at NEX Serangoon on 14 October, the TDC 2017 finals saw epic moves and choreography by our ever-talented dance crew finalists across the Street Dance and K-pop categories, and exciting guest performances from Akif Halqi and STARRESECONDS which had the crowd (which literally filled out the entire area and the storeys above) bopping along to every beat. Not to mention fun stage games by MDIS where selected audience members won awesome goodie bags. Let's dive right in! The Incredible Human Wave Jiving perfectly to the hip hop beats of T-Pain and Kanye West, Alpha Nutz wowed the audience with their infectious energy. Just check out the human wave these Street Dance Rookie finalists whipped up! 
Dishing Out Sugar & Spice Sugar, spice and everything nice, Ratchet Nutz (sister group to the Alphas) brought their sassiest game to the stage, dancing to the likes of Queens Beyonce and Rihanna. Their routine included fierce hair whips, flirty gestures and sashaying in perfect formation – pint-sized divas, check! 
Getting Up In The Air Competing in the Street Dance Open category, Stepsistaass' fiery set incorporated a touch of gymnastics that had them cartwheeling and building cheerleader-worthy formations to the empowering tunes of CL, Jessie J and MIA. Saving the best for last, the girls hoisted their sista into midair and HELD her there while smiling winningly at the judges. Slow claps*
Happy Death Drops Don't be fooled by their name; there's nothing ratchet about So Ratchet Crew! We've had our eye on these golden ticket receivers since the auditions and we knew they wouldn't disappoint. Lo and behold, the group came through with powerful moves and diva realness that had the crowd gagging for more. Just watch So Ratchet Crew's co-ordinated death drops (which ironically brought us to life) and you'll know what we mean. 
The Femme Fatales It is infinitely difficult to pin point a single winning moment from POSSE's performance because their act was im-posse-bly perfect (geddit?). Watching these glamazons confidently taking over the stage served up a good dose of empowerment that had us going "yas mamas!" 
Sneak Peek BOYZBE definitely burned it up onstage with their oppa-esque attitude and slick moves. And while dancing to tracks from GOT7, Wanna One and Teen Top was more than enough to get the audience going, the boys turned it up a notch with a teasing reveal of their toned bods. Can't say we disapprove! 
Shake It As If It's Your Last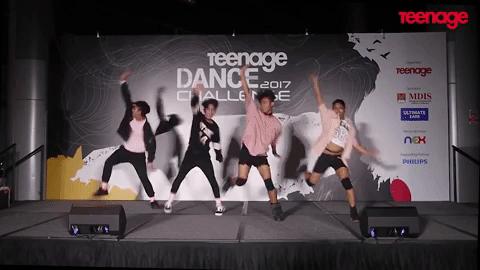 K-pop dances aren't easy to master, but I.D.C took to every step effortlessly – which is extra impressive considering they're an all-male group covering BLACKPINK's biggest hits. Sashay away!
The Leap Of Faith 
GJAT may be one of our youngest finalists but that certainly doesn't intimidate them. With a BLACKPINK-themed choreography, the girls had to devise ways to stand out amongst the other groups who also chose to use BLACKPINK tracks. And they rose to the occasion by pulling off iconic moves (like the ones shown in the GIF above) perfectly! 
Dancing Daredevils DXM didn't come to play games – striding on stage in black cloaks similar to the ones EXO donned in 'Mama', the boys upped the ante by dancing while blindfolded. And the incredible thing? None of them missed a beat! EXO would be proud of these dudes for sure. 
Revenge Of The Lolita A new face to the competition, LUNABY took us all by surprise when they scored a golden ticket at the auditions. But this powerhouse group stood out from the rest with song choices that seem more anime than K-pop (in a good way) and Lolita-inspired costumes. And their efforts definitely paid off! 
Seventeen Again The largest group to join Teenage Dance Challenge 2017, these K-pop Dance Cover finalists manoeuvred the stage easily, taking charge of SEVENTEEN's simple-but-complicated dance moves like utter pros. They even had the crowd shouting fan-chants throughout their performance! 
All Eyes (And Ears) On Him Fresh off his Best Vocal Award win at the KBS K-pop World Festival, Akif Halqi aka the leader of STARRESECONDS took the stage to perform a stunning rendition of Taeyang's 'Eyes, Nose, Lips', throwing in a few slick moves while at it. Needless to say, Akif charmed everyone present with his velvet vocals – notice us, oppa! 
Oh So Starry! Local dance crew STARRESECONDS stormed the dance floor and schooled everyone present with their mix of hip hop and K-pop dance. It's amazing how far this ultra talented squad has come since the Teenage K-pop Dance Battle back in 2010, and we can't wait to see what they'll bring to the table next. 
Prior to the finals, we asked you guys to vote for your favourite TDC 2017 dance crew. And the winner of the Most Popular Dance Group award goes to… Domin8! 
It's time to reveal the winners of Teenage Dance Battle 2017! *Cue drum rolls* 
First up, the Street Dance Rookie category! 
1st Runner-up: Ratchet Nutz
2nd Runner-up: Domin8
And the winner of the TDC 2017 Street Dance Rookie category is… Alpha Nutz! 
Here are the results for the TDC 2017 Street Dance Open category: 
1st Runner-up: POSSE
2nd Runner-up: Stepsistaass 
The winner of the TDC 2017 Street Dance Open category is… So Ratchet Crew!
Moving on to the TDC 2017 K-pop Dance Cover category!
1st Runner-up: DXM 
2nd Runner-up: TMVMT 
3rd Runner-up: HTL
4th Runner-up: SYC
Here's the winner of the TDC 2017 K-pop Dance Cover category! Congratulations LUNABY! 
Can't get enough of TDC 2017? Head over to our YouTube channel to watch all of our finalists' and guest performances! Also, check out our Facebook page for more photos of what went down! 
Teenage offers our warm congratulations to all TDC 2017 winners! We'd also like to thank all the participants, sponsors and everyone who showed your kind support. You know the drill: we'll see you next year!