Teenage Dance Challenge 2017 kicks off with an exciting audition held at the Management Development Institute of Singapore (MDIS) campus, and boy was it buzzing from start to finish. One of our favourite auditions yet, we saw tons of  talented dance crews showcasing their unique styles and battling it out for a coveted spot in the TDC 2017 finals. Buckle up, as we bring you the thrills, spills and feels of what went down!
Makeup Game Strong
Looking good is all part of the dance performance package, and our contestants ensured they'd land a strong first impression by painting their game faces on. The holding room held witness to brushes, swipes and dabs as the crews swiftly put their fiercest faces forward with bold eyeshadow looks and bright lips to boot. Even the boys weren't left out, with male members sporting flawless makeup as well.
Hairography
Many routines would inevitably involve tons of hair whipping (back and forth), so a dancer's gotta do what a dancer's gotta do – and that's style their hair. Contestants showed up in hairdos spanning from ponytails to high buns to braids, with some hair-spraying them to perfection and the lads gelling their 'dos sky-high. Gotta nail that hair whip to a T!
Blackpink Ruled
Contestants were divided into two categories: Kpop Dance Cover and Street Dance, but one constant throughout was the many teams who chose a myriad of BLACKPINK songs as their dance track, particularly the punchy 'BOOMBAYAH' and 'As If It's Your Last'. Most female groups showcased their girl power shimmies and elaborate imitations of the fierce quintet, with some succeeding in channelling their inner BLINKs effectively. Just take a look at GJAT above, who impressed with a BLACKPINK medley of four hits!
Baby Steps
While the more experienced dance groups exuded the confidence of seasoned pros upon stepping into the auditions, that did not  intimidate rookie crews from bringing their A game as well. Some even confessed it was their first time dancing in front of strangers and trying their hand, or feet rather, at any competition of sorts. Every dream starts somewhere, and we're both honoured and elated that these youths chose TDC 2017 as their very first competitive platform. 
There Was A Deathdrop… Or Two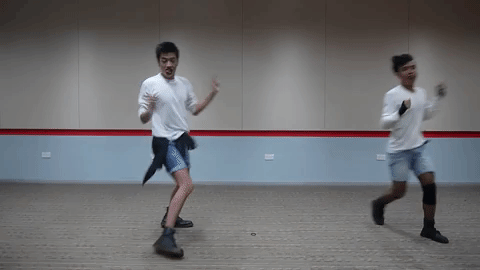 Pop culture and dance fans will be quick to point out that this is a #DeathDrop, a show-stopping dance move made famous by a popular reality TV show. Trust the So Ratchet Crew – fierce blue lipstick and all – to deliver the gasp-worthy stunt during their electrifying auditions. It's no wonder the crew scored themselves a Golden Ticket to advance straight to the finals, making them an early favourite in the competition.
Slaying Choreographies
The biggest component of a high score in the judges' books is definitely a sleekly pulled-off choreography, and the day saw no shortage of such flawless coordination. The different groups took to every nook and cranny of the audition area – in front of washrooms, between corridors, or just about any space available – to rehearse their routines relentlessly!
Looking Like #SquadGoals
Whether it's a boys club or girl group, majority of the dance crews stood out for their statement looks as well. To be a dance crew you'd have to nail the look, and troupes like Kaiju and Ratchet Nutz certainly caught everyone's attention with their sense of style, decked in Hawaiian-print shirts and pink hoodies respectively. 
Going For Gold
Ultimately, it was the coveted Golden Ticket that all crews vied for, which gave them an assured 'yes' straight to the finals and resulted in screams, cheers and fists in the air by those who scored the golden slip. In the end, only four teams took home that fast pass: So Ratchet Crew, POSSE, Lunaby and TMVMT scored an advancement to the finals where they'll be competing head to head, joined by others who made the cut! 
Here's who will be competing in the Teenage Dance Challenge 2017 Finals!
Kpop Dance Cover
Street Dance – Rookie Category
Street Dance – Open Category
Congratulations to all finalists! Catch them LIVE at our Teenage Dance Challenge finals and show your support for your favourites!
Details:
Date: Saturday, 14th October 2017
Time: 6 – 9pm
Location: NEX, B2 Event Plaza
More related stories: Local Dance Crew Shares What It's Really Like Pursuing A Dance Career In Singapore, These Exciting Events Will Keep You Busy All September