Let's get real: gift exchanges may be fun, but the struggle of getting a present that's budget-friendly and versatile enough that any giftee would like it, is very real. Want to avoid being the Grinch of Christmas parties? Check out our list of cool knick-knacks that anyone would be happy to receive. 
Staple-Free Stapler
Let's face it, a zero bullet stapler tops the list for things we all want but will never buy for ourselves – can you imagine never having to top up those pesky metal bullets or dealing with a jammed stapler? This gift is definitely a welcomed convenience!
Where to get: Available at Muji, $9.30
Archie Comic Books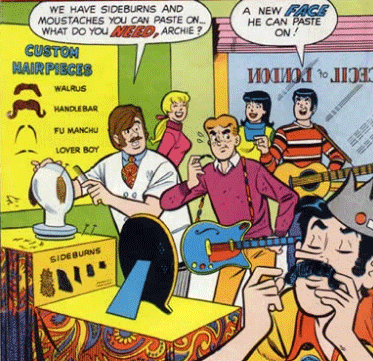 The hit teen drama Riverdale is based off the classic Archie Comics – even if the set of books lands up with someone who isn't a fan of the show, they would still appreciate the serious nostalgia factor and humour packed in between pages! You might even be converting a new fan.
Where to get: Available for sale on Carousell for as low as $1 or at Popular Book Stores
Money Tree 
If you're well out of creative juices or simply don't have the time to buy a gift, stick with cash! Ditch the red packet or plain envelopes and get creative with paper craft – since our notes are made of plastic, you can even use a little bit of tape!
Personalised Stationary
A personalised gift is a thoughtful gesture, who doesn't like their name or initials embellished on their belongings?  Here's how you can customise a gift for an anonymous person: buy a notebook and a pack of pretty alphabet stickers! The person who receives your gift can doll it up however he or she likes.
Where to get: Alphabet sticker sets can be found in stationary stores such as Popular and The Paper Market. While notebooks are available at various stores, Muji sells some of the most affordable (and minimalistic) ones from $1.30.
Blast from the Past
Everyone can appreciate some reminiscing especially at this time of year! Gather up a combination snacks and games from your childhood days for an Instagram worthy present and a sure conversation starter. Wrap your gift in the iconic Good Morning Towel for an interesting wrapper alternative!
Where to get: Assorted old school snacks are available at Fairprice and The Biscuit Shop, you can find various old school games at Sin Tat Toys Import and Export Trading or Red Mart
Phone package
It's the era of screens and technology, you can't go wrong with a bunch of phone accessories. A wireless charging port and cables that are compatible with both androids and iPhones, a new ear piece, a universal adapter, clip on fish eye lenses. The list really is endless!
Where to get: Charging port available on Lazada
Breakfast Set
You might not be able to treat them to a meal but you can give them the ingredients of a satisfying breakfast – a box of pancake premix, bottle of syrup or honey and some chocolate chips if you're feeling generous!
Where to get: Major supermarket stores
Doody Head

Don't be too quick to brush this off as a novelty gift! This is a great game to play with your pals on a staycaytion or for you and your family to bond over. All the laughter Doody Head promises makes this an awesome gift for everyone of all ages! 
Where to get: Available on Amazon
DIY Gift Voucher
Create your own little coupon! If it's a gift exchange amongst closer people, you can make it interesting by promising to queue, pay and deliver their favourite Gong Cha any time next month. If not keep it simple, pay for their Grab Ride home after the Christmas party.
A Box
This might have been a punch line from the famous Sponge Bob series, but in all seriousness, a rustic wooden crate looks great in any interior and there's no harm in being more organised.
Where to get: Available at IKEA for $9.90
Share with us some of your quirky gift ideas in the comments below!
More Related Stories: Quirky Under $50 Gift Ideas For The Tech Junkie In Your Life, 12 Tips To Getting The Perfect Gift When You Don't Know What To Buy, Soak Up The Festive Cheer At These Christmas Events!