Don't deny it – we are all guilty of certain behaviours at a cafe or restaurant. We recently sent our TGY! 2017 finalists to Food Anatomy and Dal.Komm Coffee, where they not only enjoyed lending their tastebuds to all treats sweet and savoury, but also effortlessly exemplified the different types of patrons we all (secretly) are, or could be.
The Sharers
Whether you're visiting a new cafe with your partner or a newfound BFF (like Joanna and Derrick), sharing your grub with someone else truly shows your affection for them. After all, food = love, doesn't it? Feelings aside, it's also a practical way to get more bang for your buck, since it allows you to let your palette sample different kinds of menu options while only paying for your share. Win-win!
The Food-stagrammers
An easy one to spot; just a quick scan around your food haunt will likely help you realise that you're not the only one with your phone whipped out, ready for that #InstaFood shot. Digging in can wait – taking food shots serve as a great way to document memories and places you'd want to make a return to in the future, or recommending them to fellow cafe-devotees with photographic proof. But that's not to say getting the right angle is always straightforward – just look at Chloe's intense concentration!
The People-Watcher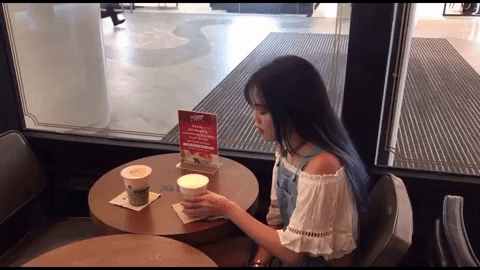 For lazy days, take a cue from Vivien and 'chill' at your favourite cafe, sipping a delicious brew as you watch the world go by. You don't even need a companion  – just a cuppa goodness, a good read and the surroundings would be enough to keep you occupied. Plus, there's no harm in checking out anyone that catches your eye as they walk past… 
The Merch Enthusiasts
Not everyone prioritises food destinations just for the meals! For fans of themed cafes, the merchandise and ambience are also important factors to immerse yourself in the whole experience. Joyce knows what we're talking about, immediately making a beeline to the familiar character plush toys seen in Descendants of the Sun for a quick squeeze! 
The Food Dissectors
 
It's hard not to critique what we get served, since discovering new tantalising delights is Singaporeans' #1 favourite pastime after all. Let's be honest: most of us can't help but chime in with our opinions on our orders – from the texture to the plating, the taste to the Instagrammable factor etc. Donny and Tyler sure had more than a few compliments about their delicious cube bites from Food Anatomy!
The Connectors

Then there are 'The Connectors', that commit to the challenging task of putting away their phones for the duration of the meal and indulge not just in gastronomic fare, but in heart-to-heart conversation as well. Jessica, Maya and Syahira evidently bonded over a game of cards and hearty laughs at their cafe trail! After all, isn't growing closer to those around you the whole point of meeting up in the first place?  
Which type of cafe/restaurant person are you guilty of being? Let us know in the comments below!
More Teenage Gorgeous You! 2017 related stories: How Many Skincare Myths Can You Debunk?, 8 Millennial-Approved Things To Do At [email protected], 7 Ways To Style Your Sneakers Outside The Gym, Millennial Pickup Lines That Will Up Your Dating Game