Chowing down on salty crisps and sweet chocolates might be a counterproductive method for pulling through the intense study period as these sodium rich foods will cause fatigue and sugar can result in a sudden crash of energy. Entertain your snacking habits with these healthier options that are just as convenient and yummy. 
Tortilla chips

Photo: Healthy Nibbles and Bits
Tortilla chips are the closest potato chip substitute; although they draw overall on nutritious value, your sodium intake is significantly reduced when you choose corn chips over potato. Make it a more wholesome snack with guacamole and salsa! 
Mixed Veggie Chips

Photo: Stob_cz
Vegetable chips are proof that vegan- and gluten-free labels do not mean salad and muted flavours – made without preservatives and food colouring, this snack is just as satisfying in taste and satiety as it is in nutrition.
Kale Chips 
Photo: We Are Not Martha
A non-carb chip alternative that is crispy and wholesome – packed with anti-oxidants that will help with acne-prone skin during stressful periods, vitamin C to guard your immunity as you trudge through the late nights and a boost of iron in your circulatory system to help you feel fresh and ever ready. Make this at home with fresh kale, olive oil, salt and chili powder if you prefer your snacks with a kick – just season well and bake at 150 degrees.
Unsalted Seaweed

Photo: Personal Trainer Food
As unattractive as an 'unsalted' snack sounds, kelp has already been naturally marinated with seawater before it reached our supermarkets – without any additional seasoning as it has a subtle umami flavour. This low calorie snack come in big bundles for an affordable price.
Homemade Popcorn

Photo: Freepik, Natthapon Ngamnithiporn
Whole grained and unprocessed, popcorn provides you with vitamins and a generous serving of fibre which can be good for you as long as you don't add too much sugar, salt or butter. This super wallet-friendly snack doesn't require more can a couple of minutes to prepare – simply pop 'em into the microwave and you'll be good to go in no time!
Apple and Peanut Butter

Photo: Valyas Taste of Home
Dress the iconic doctor-be-gone fruit with a nourishing and savoury punch! Organic peanut butter is energy dense without the unhealthy trans fats; it naturally suppresses your hunger which leads to less overall snacking.
Greek Yogurt 
Photo: My Fitness Pal
The Mediterranean cousin of the regular yogurt has been a trending health food for good reason – they taste just as yummy with double the protein and half the sugar in a single serving. Add a table spoon of honey, some oats and your favourite fruits for an icy, sweet treat.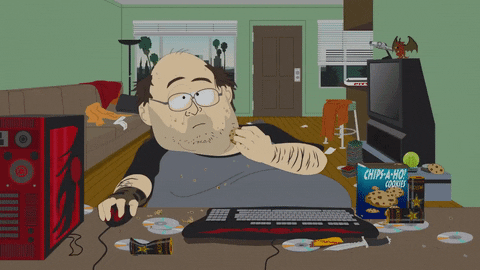 Even with the healthier alternatives entailing more nourishing benefits, nothing screams comfort like a bag of salty, processed chips and a rich chocolate bar. If you're a serial snacker, remember to take everything in moderation. Choose a variety of snacks and remember to indulge in plenty of healthy exercise once your exams are over! 
Featured image: My Evergreen Wellness
What are some of your go-to late night snacks? Share with us in the comments below!
More related stories: 8 Guilt Free Healthy Snacks, Increase Your Study Productivity With These Effective Tips, Easy 5-Minute Workouts To Get Rid Of Your Post-Holiday Food Baby