It's important to dream big, but also not to lose touch of reality – especially virtual ones. And our TGY! 2017 finalists learnt this no better than during their icebreaking session at V-Room . To have an idea of what could go down when experiencing it for yourself – we summarised it in GIF form. You'll likely…
…get nervous One of the many instructors will brief you before you venture into virtual world, and the thought of entering a new reality might get you understandably apprehensive. But just like Chloe and Vivien, laugh it off, hold back your nerves and expect the unexpected. You've got this!
…Get Scared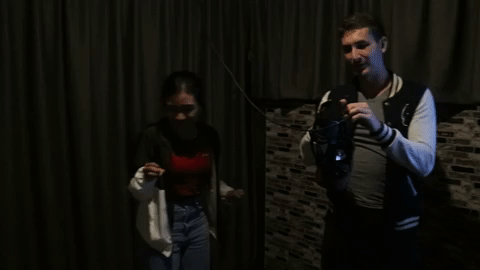 From zombie shooters to out-of-this-world space adventures, your gaming possibilities are endless at V-Room. And don't be alarmed assuming you won't be able to choose your own experience like Syahira was pranked into thinking – all game options are open for your freedom of choice! Although watching your fearful friends fend off the flesh-eating walking dead would definitely be a sight to behold
…Look Silly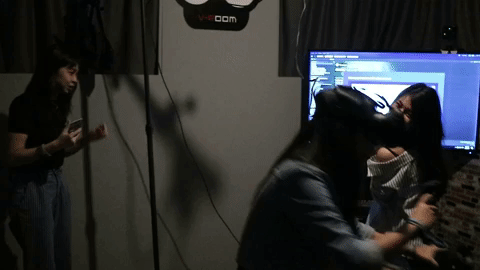 Once you've donned the VR goggles and gotten ahold of a suitable controller, get ready to have your senses fully immersed into a brand new world – just like Maya did… albeit a little too much. Be cautioned that VR games will promptly dive your conscious right into a new state of environment and make you oblivious to your actual surroundings, which could result in you being an unpredictable hazard. Try to avoid walking into a wall or hitting your unsuspecting friends!
…Get The Hang Of It After a couple of unsuccessful attempts, chances are you'll slowly get accustomed to the game controls and familiarising yourself with the hand-eye coordination needed to ace the VR game. Take a cue from Don and remember to keep your patience and maintain your composure to master the art of racking up the perfect score. #NailedIt! 
…Get Secretly Teased Like Joanna, there's a strong chance of becoming the unknowing victim of your friends' playful teasing and taunting while having your turn at the VR game. Being unaware of what's going on around you in the real world works to your disadvantage, but it's sure to incite shared laughter when you realise your friends' antics. Otherwise, be the jokester like Derrick and take revenge on them during their round!
For more information on having your own virtual experience fun, check out V-Room!
 More Teenage Gorgeous You! 2017 related stories: 5 Ways To Stand Out An An Audition, We Ask Youths About Matters Close To Their Hearts. Here's What They Shared!, How Many Skincare Myths Can You Debunk?, 8 Millennial-Approved Things To Do At [email protected], 7 Ways To Style Your Sneakers Outside The Gym, Millennial Pickup Lines That Will Up Your Dating Game, 6 Types of Millennials You'll Spot At A Cafe