Whether it's going on a date at an amusement park or sharing a romantic moment on a shipwreck, live out the dream of your favourite K-dramas at these iconic sites!
#1 Navagio Beach – Descendants Of The Sun
This is undoubtedly the most memorable location to Descendant of the Sun (DOTS) fans as it was where they watched the relationship between Big Boss and Beauty blossom. Off the coast of Zakynthos Greece, the Navagio Beach is home to a famous shipwrecked vessel from the 1980s, which captivated DOTS screenwriter Kim Eun Sook during her visit to the island. Feeling adventurous? The grounds are also bounded by towering cliffs, so you can give a 200m base-jump off the ledges a shot. Do keep your eyes peeled when you're exploring the area though, as you might just meet your very own Captain Yoo there!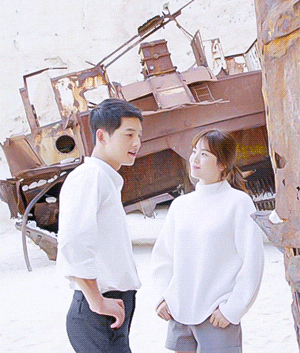 Recreate this: Who could ever forget the scene during the last episode where the Song-Song couple fulfilled their promise to return to the beach together? Better yet, if you have an oppa who just completed his national service on your arm, you can even recite the same lines that our cheesy lovebirds recited in the drama. Captain Yoo would definitely approve!
#2 Gyeong-Gijeon Shrine – Love In The Moonlight
Credit: Robert Koehler/Tumblr
Filled with lush bamboo groves and portraits of Joseon Dynasty founder King Tae-jo, the Gyeonggijeon Shrine was used for a multitude of scenes in Love in the Moonlight. Besides being the location of the first meeting between the Crown Prince and Ra On, also nestled within the shrine is the Jeonjusago National Archives Building which appeared in episode 10, where the Crown Prince became jealous upon seeing the other eunuchs assisting Ra On after she hurt her foot.
#3 Jumunjin Break-water – Goblin
Located at the northernmost part of Gangneung, the Jumunjin Beach is where Ji Eun Tak first summoned the Goblin after blowing out the candles on her birthday cake in the popular K-drama. But what you may not know is that there are at least five identical man-made breakwaters around the beach – crystal clear waters, azure skies and all. Just look out for a huge signboard along the shores and you'll be on the actual breakwater where the Goblin stars filmed the scene!

Credit: Minigoblin/Tumblr
Recreate this: Grab your beau and head out to recreate your own 'wishing-for-a-goblin' scene. And just in case you didn't prepare your own red scarf and buckwheat flower, you can rent it at a small fee onsite – there's even a 'photographer' who can help you take a shot! Be prepared to queue though, as there's bound to be a long line of Goblin hopefuls waiting their turn.
#4 Jangsado Sea Park – Uncontrollably Fond
Decked out in gorgeous flora all year round, the 1.9km long Jangsado Sea Park can thank its gorgeous landscape and breath-taking scenery for making it the prime backdrop in dramaland. In Uncontrollably Fond, it was at this island where Noh Eul finally found Joon Young after the latter went missing. Bonus: if you have some time left after exploring the park, take a trip to the neighbouring Oedo Island – home to a botanical garden chockfull of picturesque blooms and majestic sculptures (read: Instagram photo ops galore).
#5 E-World Amusement Park

Credit: KpopStarz/MBC
Amusement parks have long been synonymous with romantic gestures in K-drama (ferris wheel kisses anyone?), so it shouldn't come as a surprise that the E-World Amusement Park was featured in Weightlifting Fairy Kim Bok Joo. What was meant to be a date went a little awry with Bok Joo's friends showing up, but it still saw many heart-fluttering moments between the two leads when they first held hands while watching fireworks light up the sky. Not to mention the scene where our sway couple came face-to-face when they both ducked down to share a drink? Totally aww-inducing!
Recreate this: Well, you're at an amusement park so the options are endless – try on cute headbands and have an aegyo battle; hop on a Viking ship or a Frisbee ride for the daredevil couples. Better yet, if you're there with friends who are willing to join in on the fun, you can always do your own take on the scene where Bok Joo and Joon Hyung's friends crashed their date – photobomb, anybody?
This article was adapted from an article in the Teenage July 2017 Issue. 
Which filming locations would you like to visit? Tell us in the comment section!
More related stories: 101 Facts You Need To Know About Produce 101's Wanna One,Wanna One, NU'EST W & Other Hot K-pop Boys To Have On Your Radar,  Rihanna, Harry Styles And Other Pop Stars Turned Actors