Two hours before she played an intimate invite-only showcase to a select group of fans and media, Dua Lipa sat down with us at JW Marriott Hotel Singapore South Beach for an interview. The statuesque 21-year-old English singer/songwriter was all pumped and raring to tell us more about her hotly anticipated debut album that drops on June 2nd. We suss out what it felt like to work with Coldplay's Chris Martin, why she once thought she couldn't sing and what else's in store for the trailblazer.
Given the hype surrounding your debut release, do you think there's any pressure to deliver? How do you think you're handling it?
Well, pressure makes me work really hard, and I enjoy the pressure. Now I feel like i've come to a really good point, especially with this album. I feel really proud of it and I'm just really ready to release it. 
It's so nice to see 'Be The One', which was released in 2015, take off in different parts of the world now. What do you think is so special about that song that makes it a slow-burner hit?
It's quite crazy how 'Be The One' has taken a life of its own… It's slowly kind of, gone to different territories and it's been really quite wonderful because it's taken me to so many new places. And maybe because it's one of my first songs to really hit radio and introduced people to me. It always felt like the right song as the first introduction, but I also think it has a really infectious beat. Not to blow my own trumpet, but I think there's nothing quite like it. There's something really different about it rhythmically and lyrically that makes you want to sing along to it. It's a pop song but also has an underlying meaning. I feel very lucky [with it].
The run up to the album release has been extraordinary. How has the artistic process been for you?
I think now the times are changing so much and it takes a lot to break a new artiste and introduce them to the world, and there's so many territories. It feels like it's been a long time, but I've only for the first time now, a month before my album, have the opportunities to come to places like Southeast Asia. I think, especially for a debut album, you can no longer just put one song out and expect the whole world to hear it, because it's really dominated by bigger artists – the second they release an album it dominates the whole chart, really. So that's why it feels like it's been so long and quite staggered. Everytime I felt I was ready to release my album, there were different opportunities that'd come up. Now I personally feel like I'm very ready for the album as a whole.
Speaking about opportunities, you've also got collaborations on the album. We're dying to know, what was it like working with Chris Martin of Coldplay on the track 'Homesick'?
It was an amazing experience. He's an artiste that really admire inspires me. I've listened to his music my whole life, so it was really surreal to get to sit next to him on the piano and hear him perform so close to me. I feel like I've learnt a lot from him, just as an artiste and [by the way] he's so humble and kind. It was very nerve wracking for me to play him songs from my album, getting feedback and learning. It's a very special process to write a song with someone and I feel very honored to have had the opportunity to work with him. 'Homesick' is definitely a special song and I'm excited that he got to sing on it too…
We might just jump straight into that song first when the album drops!
It's the last song on the album and I feel like it's a very beautiful way to close the album as a whole.
What sets you apart is your unique, smoky tone that's easily identifiable on your songs and features. Has there even been people in the past who doubted your abilities to be a pop singer, with your raspy tone?
It definitely stopped me me doing a few things! When I was young, I wanted a place in the choir but I couldn't sing the high notes, which I still struggle with. I've got a loud, belty voice but I can't hit crazy high notes. That was definitely one of those things where as a child, it was quite heartbreaking. I was like, "Oh, I can't sing! I can't hit the high notes!" When I went to theatre school, it was there that the teacher really helped me build my confidence but I'm really glad that I kept my tone because I feel like it would've changed if it weren't for musical theatre. So I feel like I stayed for the right amount of time so I still wouldn't lose my identity and my voice. It's definitely my lower register that separates me.

Aloysius Lim / Warner Music Singapore

Do you have anything to say to people who doubted your potential to be such a huge star?
Everybody's entitled to their opinion and that's absolutely fine. To anyone that wants to do something and there are people getting in the way of it, I feel like as long as they believe in themselves and they stick by it and it's something they're really passionate about, they shouldn't let go of that dream. Because one person's opinion is dulling your sparkle, it shouldn't be the reason you stop doing what you're doing.
You're part of the rising generation that's finding fame through social media. How do you think you're different from people who are trying to get their start there but have yet to do so?
I use social media to my advantage. I was like, "Okay, what's the best way for me to showcase what I do?" and I thought I'd put it on the internet. I put videos on Facebook and my friends in school watched it. It was way to show people that I was singing. And if I met anyone who wanted to do music, I'd tell them to listen to my cover [of a song] and if they liked it, I'd ask to work together. It was an ongoing thing like that where I used it more as a tool and a portfolio to get out there. It's a thing now where social media is really taking over. They're a lot of independent artistes doing it all on their own. It's really just about being persistent and believing in what you do because that's the only way you're gonna make anyone else believe in you, is by being sure of yourself.
You opened for Troye Sivan's tour and the dynamics of your friendship with him is just adorable. What's he like to tour with?
Before I went on tour with him, I knew his music of course, but I didn't know him on a personal level. It was my first time doing such as big tour in the US. He's so sweet, so kind and hardworking. He was really inclusive and I felt like I was really spoilt because a lot of people in my band were telling me that you don't really get experiences like that when you go on tour. You barely even get to see the artiste. He's definitely a massive role model, especially for the LGBTQ community and it's something that really inspired me, that the things you really believe in, you should speak up about and you should support [them]. Be it the LGBTQ rights, or about minorities or feminism, or just whatever you believe in. He's just such a nice person. Seeing his success happen to such a nice person is really sweet.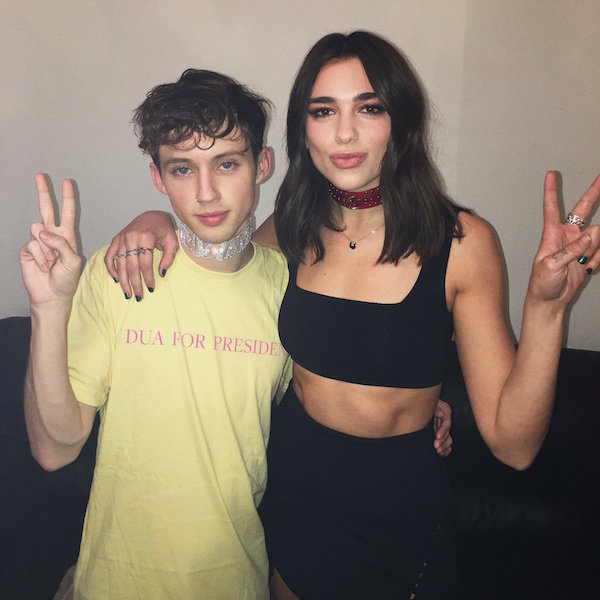 Dua Lipa with Troye Sivan backstage at The Suburbia Tour
On a scale of 1-10, how psyched are you to be opening for Bruno Mars next year?
I am a 12? A 13!? I don't really know. I mean, getting to do such a massive tour in stadiums and to get to share a stage with an artiste that's so amazing, I can't even. I remember watching him on stage at the BRIT Awards and I was dancing and I couldn't stop. I absolutely can't wait.
So what's next in the pipeline after the album release?
I'll be doing festivals this summer. I'm also announcing tour dates so I'll be starting the album tour in UK/Europe and it'll grow and hopefully I'll come back to Singapore, that'd be insane. I'll just keep going and I'll start writing again early next year for the second album and I've got a few songs already. I feel like because I've learnt so much about the process and how I like to write and work, I think the second album will come much quicker.
Dua Lipa's debut album is out on 2nd June. Listen to her music here. Thanks to Warner Music Singapore for the interview!
Featured image credit: Aloysius Lim / Warner Music Singapore